Snow Plows Path Pro 50"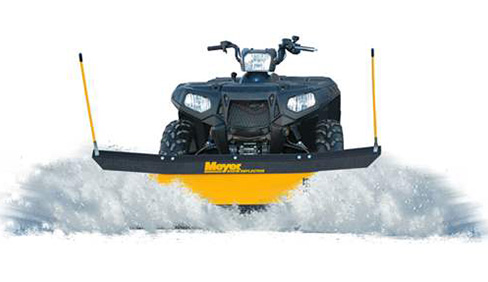 Double tap to zoom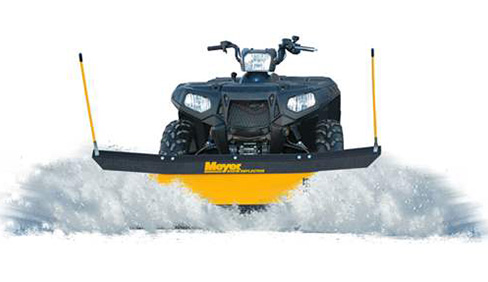 Features
Performance
Scoop & Funnel™ Design for Better Results in Less Time 
The Meyer Path Pro is a commercial-grade, full-trip plow available in 50", 60", or 72" widths. It features highway-inspired flared wings that scoop and funnel the snow faster and farther. The Path Pro's 65-degree attack angle scrapes the surface more cleanly than standard straight blades. Shop around for other ATV-compatible snow plows and you will find there's nothing like it on the market.
Reliability
Tough As Nails, Backed with the Best Warranty in the Industry 
When you're used to making 800-pound snow plows for full-sized work trucks like we are, you tend to build things that can take a beating. That's why though it's small enough to accommodate your ATV, the Path Pro is no wimp. It's made of 14-gauge, high-tensile steel and features a heavy-duty push frame, trip springs and grease zerks. The universal mount is forged of dual-walled tubular steel, and is sealed in a rust resistant, high-strength coating.
Ease of Use
Up, Down, Right, Left…Path Pro Adjusts to Your Needs
The up-down movement of the Path Pro is provided manually or remotely. Sold separately, you can obtain a manual lift kit that allows the operator easy access to a lift arm that lifts or drops the moldboard. If you prefer, you can also lift/drop the moldboard using an electric winch as recommended by your ATV dealer.
Compatibility
The Path Pro fits the biggest names in the ATV business, so take your ATV to the next snow-destroying level.
Specifications
Blade Model #:

Path Pro 50"

Blade Type:

Moldboard Length:

4' 2"




Moldboard Height:

17.50"




Moldboard Gauge:

14

 ga

Vertical Ribs:

4

Plow Trip Springs:

2

Cutting Edge:

1/4" x 5"




Avg Width at Full Angle:

47.4"




Angling Rams:

3/4" x 6-1/4"




Weight Complete:

138 lbs.



 
---