Hustler 52" Kawasaki FR691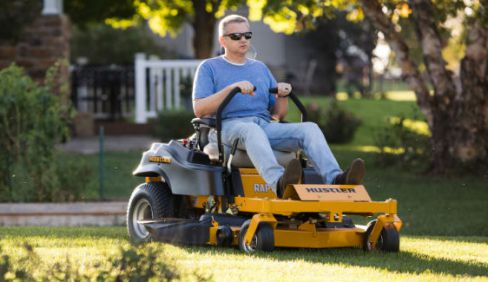 Double tap to zoom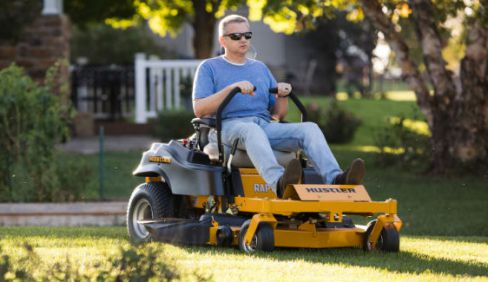 Features
ENGINE GUARD
Provides protection to the engine and adds to great look of machine.

WELDED STEEL DECK
Heavy-duty design for unmatched durability. Up to 52" deck size available.

FABRICATED STEEL FRAME
Hustler's heavy-duty fabricated frames are built tough.

SMOOTHTRAK™ STEERING
Responsive, precise steering control.

AUTOMATIC PARK BRAKE
Auto engages when steering levers are open.

POWERFUL ENGINE OPTIONS
Kawasaki and Kohler engine options available.
Specifications
| | |
| --- | --- |
| ENGINE |   |
| ZERO-TURN CONFIGURATION | 52" Kawasaki FR691 |
| MANUFACTURER | Kawasaki |
| HP (PER SAE J 1995.) | 23HP |
| DISPLACEMENT | 726cc |
| COOLING | Air Cooled |
| AIR CLEANER | Single Stage |
| ENGINE WARRANTY | 3 Year |
| DRIVE SYSTEM |   |
| ZERO-TURN CONFIGURATION | 52" Kawasaki FR691 |
| TYPE | Dual Hydrostatic |
| PUMPS | n/a |
| WHEEL MOTORS | n/a |
| HYDRAULIC LINES | n/a |
| HYDRAULIC COOLING | n/a |
| RESERVOIR CAPACITY | n/a |
| TRANSMISSION | HydroGear EZT |
| SPEED | 6.5 mph |
| PARKING BRAKES | Patented Automatic |
| DECKS |   |
| ZERO-TURN CONFIGURATION | 52" Kawasaki FR691 |
| CUTTING WIDTH | 52" |
| CUTTING HEIGHTS | 1.5"-4.5" |
| DECK LIFT | Hand Operated |
| DEPTH | 4.1" |
| BLADES | 3 |
| BLADE LENGTH | 3 - 17.86" x 2.25" x .188" |
| BLADE TIP SPEED | 16,600 fpm |
| SPINDLES | Aluminum w/ 3/4 Shafts and Triple Protection Sealed Ball Bearings |
| DECK BELTS | n/a |
| DRIVE | Electric PTO Clutch |
| CONSTRUCTION | 11ga. Fabricated |
| SPINDLE MOUNTS | Reinforced 14ga. |
| IMPACT/TRIM AREAS | 1/4" x 3/4" Steel Bar |
| CONSTRUCTION |   |
| ZERO-TURN CONFIGURATION | 52" Kawasaki FR691 |
| FRAME | 3.25" x 1.5" x .120" Steel |
| DECK CARRIER FRAME | n/a |
| ENGINE/TRANSMISSION FRAME | n/a |
| ENGINE PLATE | n/a |
| FRONT AXLE | Fabricated w/ Sealed Ball Bearings |
| FRONT CASTER WHEELS | Commercial Duty Steel Roller Bearings, Greasable |
| FRONT CASTER FORKS | Fabricated 1/4" Steel |
| OPERATOR PLATFORM | n/a |
| GENERAL |   |
| ZERO-TURN CONFIGURATION | 52" Kawasaki FR691 |
| SEAT | Premium seat with armrests |
| FUEL CAPACITY | 3 gal. |
| CUP HOLDER | Yes |
| FRONT TIRE | 11 x 4 |
| DRIVE TIRE | 18 x 8.50 - 8 |
| PRODUCTIVITY |   |
| ZERO-TURN CONFIGURATION | 52" Kawasaki FR691 |
| ACRES PER HOUR | 2.72 |
| DIMENSIONS |   |
| ZERO-TURN CONFIGURATION | 52" Kawasaki FR691 |
| WEIGHT | 503 lbs. |
| HEIGHT | 39" |
| HEIGHT W/ ROPS UP | n/a |
| HEIGHT W/ ROPS FOLDED | n/a |
| LENGTH | 73" |
| WIDTH | n/a |
| WIDTH W/ CHUTE UP | 53.4" |
| TIRE WIDTH | 45" |
| DIMENSIONS W/ CATCHER |   |
| ZERO-TURN CONFIGURATION | 52" Kawasaki FR691 |
| CATCHER TYPE | 2-bag |
| POWERED/NON-POWERED | Non-powered |
| CATCHER CAPACITY | 5.4 bushel |
| MOWER LENGTH W/ CATCHER | 96.4" |
| MOWER WIDTH W/ CATCHER | 63.9" |
---